I am still very active in my local Blood Bowl League, and was fortunate the other day to score a one-turn touchdown! You study up on the moves, memorize, practice, and when it finally pays-off! Ooooh! So worth it! My opponent sat there in stunned silence not sure how to react, while I was doing the victory dance and whooping and hollering all over my local game store!
In this pic here against the Norse (not the team I scored on... they were Skaven!), I have circled my catcher No8 who was the one I was able to run it in with and score! :D
For a standard human catcher with a MA8 it is going to take three 'chainpushes' to get it done. The following example shows a setup against 3 tight opposing lineman. For this one you'll need 9 players total including 1 being the Thrower in the backfield...
1) Step One: Blitz and close the gap... if you can get a "guard" on the line--even better!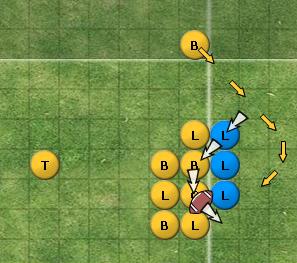 2) Step Two: Move a player in to close the other gap.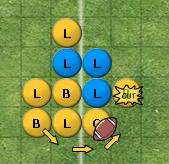 3) Step Three: Throw the block and chainpush through!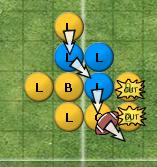 4) Step Four: One last block and chainpush, and the endzone is within reach!
This is not as technically difficult as the one I had to do; multiple dodges, and gap plugs because my opponent did not stack his line 'side-by-side' like in this example, but the principle is sound none-the-less! Once you have it down... LOOK OUT!!! :D